Pumpkin Gingerbread

recipe
Gingerbread on its own is delicious. When itís baked with added pumpkin puree, it becomes spectacular.
Ingredients:
12 tablespoons butter, melted, plus extra for pan
2 ½ cups flour, plus more for pan
2 teaspoons baking powder
1 tablespoon ground ginger
1 teaspoon cinnamon
½ teaspoon nutmeg
1 teaspoon salt
1 (15-ounce) can pumpkin puree
1 cup white sugar
1 cup packed dark brown sugar
3 eggs
Directions:
Preheat oven to 375F. Butter and flour two loaf pans.

In a large bowl, sift together flour, baking powder, ginger, cinnamon, nutmeg, and salt. In a separate large bowl, whisk together the butter, pumpkin, sugars, and eggs. Add flour mixture and stir until just combined.

Divide batter evenly between prepared pans and bake 45 to 50 minutes, until a toothpick inserted in the middle comes out clean. Cool 15 minutes, remove from pans, and cool completely before serving.
Back to the Pumpkin Recipes home page.
Reviews and Comments:
Review by Bex719 on October 25th, 2011:
This was delicious. I didn't feel like making two loaves so put all the batter in one large loaf pan -- wouldn't recommend doing that since it didn't cook all the way through! So, two pans it is. I also substituted 1/2 cup olive oil for the butter -- didn't want to use so much butter as recipe specified and added chopped walnuts. It was YUM even if slightly undercooked in the middle!
Review by Coral on November 7th, 2011:
Such an easy recipe and It's one of the best I have ever made! Moist and delicious...
Review by Jenni on January 8th, 2012:
Absolutely delicious. I did not have dark brown sugar, so used light brown sugar and added a couple of tablespoons of molasses. It turned out fantastic!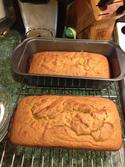 Review by Molly on November 3rd, 2012:
Great recipe! Fairly easy for a cooking novice like me, plus smells great while baking.
Review by Gwen on November 3rd, 2012:
Yum, used fresh homemade pumpkin purée. Next time I would increase the cinnamon and nutmeg a wee bit or try the molasses. Only had light brown sugar on hand. It's nice and moist, had to cook 58 minutes.
Comment by Jay on December 8th, 2012:
Typo? 375 F is way too hot! Must mean 325 F as other Gingerbread recipes call for. This crust dried out near burned edges
Data:
Published: July 19, 2010
Average rating of
Summary: Gingerbread on its own is delicious. When it's baked with added pumpkin puree, it becomes spectacular.